MKYF Lawrence Hamm, Sr. Scholarship Guidelines
A Chapter for Today … A Chapter for the Future
Eligibility
In order to be eligible for the Lawrence Hamm, Sr. Scholarship, students must:
Attend a high school in Montgomery County, MD and be classified as a high school senior
Demonstrate volunteer and community service involvement
Apply and receive acceptance to a college or university
Criteria
In order to be considered for the award, all applicants must submit the following information:
From Applicant:
Completed application – typed and signed, include the 6 pages labeled "Submitted " An electronic signature is acceptable.
Four (4) completed application essays – typed and in the space provided. Essays are limited to 500
Student resume (1-2 pgs) – outlines leadership, extracurricular activities, work experience, awards
College information sheet – includes list of schools applied to, intended major, career interests
Proof of US citizenship and residency in Montgomery County, MD with copy of photo ID1
A copy of your most recent grade report card must be forwarded or included with your application
Signed media release and authorization – Page 1 of Submitted Application form
Applicant should send Word or PDF materials to MKYF Scholarship Committee at Scholarships@MKYF.org or MKYF Scholarship Committee, PO Box 10848, Silver Spring, MD 20914.
 From School:
Official high school transcript in a sealed envelope * or transmitted electronically from school
An academic letter of recommendation*
Letter from a teacher, school counselor, or school administrator addressing the applicant's academic achievement, character and potential for success in college and beyond.
From Other Recommender such as Church, Community, Service or Related Activity:
A service letter of recommendation* verifying applicant's participation in school-based or community-based service organization(s) with generalized dates of participation in volunteer activities, activities performed by the applicant.
The Application
Deadline
In order to be eligible for review, all Materials MUST be received by March 15, 2022 to MKYF Scholarship Committee at Scholarships@MKYF.org or the mailing address above. You will receive an email acknowledgment once MKYF has received your completed application.

Letter must be on letterhead, signed and dated, and include the representative's contact information (i.e., email address and phone number).

1 Acceptable forms of identification include federal, state, county issued, (passport, driver's license, school identification card with picture). If the applicant is not a U.S. citizen, proof of his/her status as a legal permanent resident or other lawful status.
Materials marked with (*) should be sent directly to MKYF Scholarship Committee at Scholarships@MKYF.org or MKYF Scholarship Committee, PO Box 10848, Silver Spring, MD 20914. Materials may be included in application submission by mail if received in a sealed envelope.
Past Scholarship Awardees
2018
Bryant Evans Taylor
Gideon Ndeh
Yasmine Pierre
2017
Glenn Jones, Jr.
Queen Griffin
Omolola Sanusi
2016
Benedicta Kumazah
Avanti Kolluri
2015
Jordan Smith
Melissa LaNoire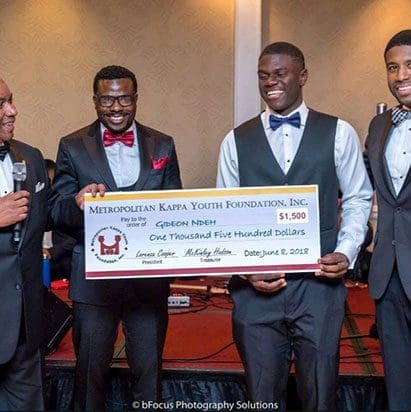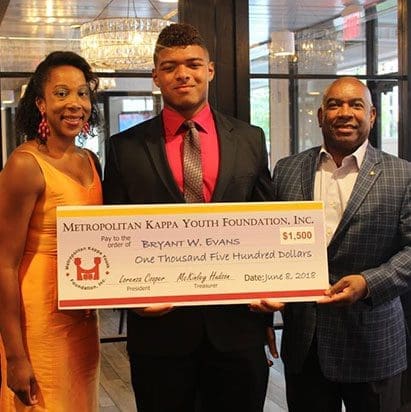 Gideon Ndeh (Silver Spring Alumni Chapter Kappa League President 2018)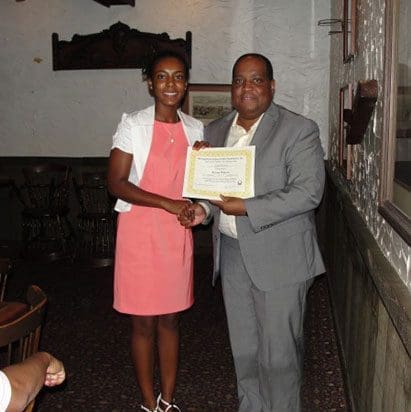 Kyana Waters and Board President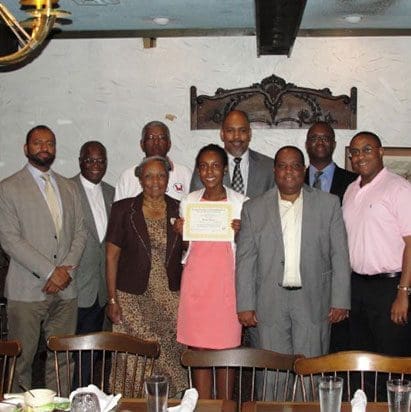 Kyana Waters and Grandmother with Board Members
2013
Kyana Waters
Sahar Naghibi Khamnei
2012
Devin Taylor
Nicole Wright
Andrea Kyeremah
Genevieve M. Dubroof
2011
Nadim Khan
Ruben C. Dumay
The Metropolitan Kappa Youth Foundation continues its pursuit to recognize students who excel and seek to continue their educational aspirations in college and university. This year, the 2015 MKYF has selected Jordan Smith and Melissa LaNoire as the Lawrence Hamm, Sr....
read more