Since 1972, the Silver Spring (MD) Alumni (SSA) Chapter of Kappa Alpha Psi Fraternity Inc has partnered with the MD/DC/VA communities. From our Award-winning Guide Right, Book Awards, National Society of Black Engineering, and St. Jude's programs, SSA has and will continue to advocate for the next generation of leaders in our community. Through our partnerships with several local Homeless Shelters, SSA has endeavored to stamp out hunger and homelessness, by providing personal necessities and food items, for the needy throughout the year.
SSA will continue their commitment to bolster strategic partnerships in voter registration literacy and in other ways which the community can benefit. Here is our MLK 2022 community service update:
SSA MLK Day Service Project Summary
SSA donated approximately 100 Care Boxes to the following organizations:
Interfaith Works
Stepping Stones
Dwelling Place Shepherds Table
Becky's House
Priscilla's House
Long Branch Community Ctr.
Interfaith Works – Women's Shelter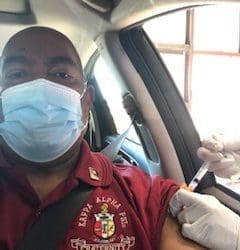 Modeling the behavior – Lorenza Cooper, President of MKYF encourages everyone to get vaccinated. According to scientists. the vaccine is safe, reliable, and the only way toward herd immunity as the pathway to getting out of the pandemic and back to normalcy....